A structural board that is just as versatile as you.
If you can imagine it you can make it

Take matters into your own hands:
Panel2 can easily be transported and mounted yourself
Rough diamond
A typical case of a rough diamond, the Panel2 board. Super strong and durable, yet surprisingly easy to process. And very handy because of its user friendly size. Ideal to quickly cover larger surfaces, for instance a new roof, floor base or wall cladding.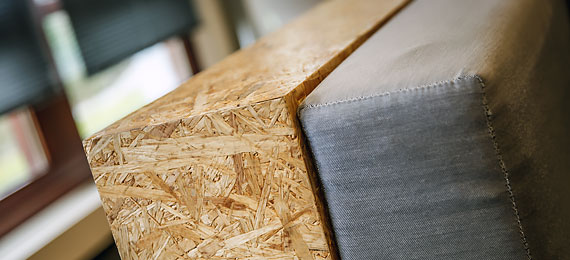 ---
Work safe,
live healthy
Panel2-boards are safe to use. Panel2 is produced without the addition of formaldehyde.
Easy to transport
and mount yourself
Don't feel like developing a hernia lifting clumsy and heavy boards? With a surface of exactly 1 square meter, Panel2 is the user friendly alternative. Thanks to the handy size you can easily carry and assemble the boards yourself. So it's ideal for the DIY enthusiast or independent professional. The boards are also equipped with tongue and groove on all four sides for easy placement and high strength.
Durable
Panel2 uses wood strands instead of sawn planks. The wood fibres are therefore used far more efficiently. This also comes from young trees, obviously from responsibly managed forests and with  FSC® certification. The young planting keeps the forests alive and absorbs extra CO2.
The OSB-board that allows you to get through a single door
Several layers of glued wood strands make Panel2-boards super strong and durable, with no weak spots and knots. Panel2 therefore has a more constant strength and rigidity than plywood. Yet Panel2-boards has a very low weight (11 kg) and a handy size of 59 by 170 centimetres. Panel2 can also be used without any problems in damp areas like bathrooms and kitchens.
The more challenging the job, the better the Panel2 performs
With Panel2 the mounting of a solid and flat surface is a breeze. But in the hands of a creative handyman, Panel2 can take on pretty much any shape. A table, cabinet wall or bathroom furniture? Finish your Panel2 design with paint or varnish. Panel2 will give you the freedom to create what you want.
What can you use Panel2 for?
Panel2 structural boards are strong, resistant to higher humidity and due to their easy-to-use format easy to transport and process. No wonder you encounter them in the most diverse applications.
Wall cladding
With Panel2 the mounting of a solid and smooth surface is a breeze. Big enough to quickly cover large surfaces, and at the same time, convenient to carry and process.
Flat roofs
Panel2 is suitable as a base for high-quality roof sealing systems such as bitumen.
Roof overhang/awnings
Panel2 can also be used in damp areas or outdoors. As long as there is no risk of direct wetting.
Pitched roofs
The ideal surface for roof constructions. With tongue and groove on four sides, Panel2 boards are easy to assemble.
Inner floors
Its large load-bearing capacity and uniform surface makes Panel2 a solid basis to be covered with carpeting, vinyl, parquet or laminate.
Attic floors
Thanks to the handy size you can easily carry the boards yourself. Under your arm, problem-free through stairwells, corridors and doors.
Renovation
Maintain a healthy living climate. Panel2 is produced without the addition of formaldehyde.
Furniture
Maintain a healthy living climate. Panel2 is produced without the addition of formaldehyde.
Timber frame construction
You can build on Panel2. Without weaknesses and knots and with a greater constant strength and rigidity than plywood.
---
Creative handymen come up with more and more new and unexpected uses for Panel2. Look here for inspiring examples.


---
Isn't this a pretty picture?
Panel2 is a real lightweight powerhouse. The boards have a large bearing capacity and a uniform surface, without knots or weak spots. At the same time they are easy to handle and process. What can you do with it? That just depends on your own creativity. You after all decide for yourself what you like?
Panel2 is challenging you!
Exceed yourself and win back the purchase price
Building a bookcase, a kitchen or a new attic room? With Panel2, the only limitation is the borders of your own creativity. And now you also stand a chance to win back the purchase price of your Panel2-board material (up to a maximum of € 250). Have fun and send us a picture of your project. Each month we select two winners from the entries.
Frequently asked questions
INSTALLATION INSTRUCTIONS
Make sure the Panel2-boards are positioned dry and level. Storage for longer periods of time? Cover the boards with a tarpaulin and ensure adequate ventilation. Thus you prevent condensation moisture from getting into the boards. Leave the boards at least 48 hours before processing in the area where you will be using them.
Maximum load-bearing
Allowed distributed load
PANEL2® 18 mm
Number of beams
Beam distance e (mm)
Fv (kN/m²)
4
567
4,25
5
425
8,00
Deflection
Deflection at characteristic load, taking into account creep deformation (distortion factor k

def

= 2.25) ≤ 1/200e.

Initial deflection at variable medium long-term load bearing period ≤ 1/300th (medium long-term = 1 week to 6 months).

Deflection under quasi permanent load bearing ≤ 1/200e.
Values calculated according to Euro code 5.
Use moisture-resistant foil if there is a risk of rising damp (for example if you use Panel2 as a floor base on the ground floor).
Apply PVAC-adhesive (white wood glue) to the tongue and groove and connect the boards with a tapping block and hammer.
Saw the tongue away along the walls.
Leave an expansion joint along the walls free of at least 10 mm (or 2 mm per meter of boarding for areas wider than 5 metres).
Are you attaching the boards on beams? Leave the short board edge resting on a supporting joist.
Attach the boards with (preferably galvanized or stainless steel) nails or screws (minimum 8 mm from the board edge.
Keep a distance between screws/nails of 150 mm on the board edges and 300 mm on the intermediate beams.
Norbord, specialist in board material

Panel2 is a product of Norbord, a leading producer of wood-based panel products. Our products are widely used in the construction and furniture industry, and used by both professionals and do-it-yourselvers. Our goal is to supply an eco-friendly quality product.